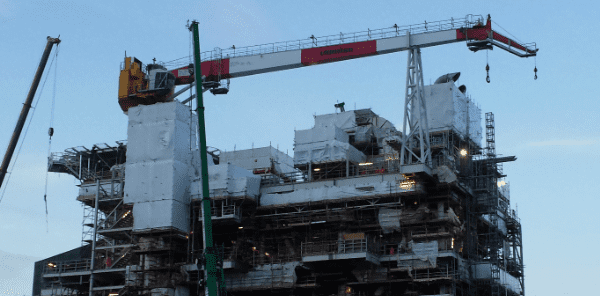 Verisafe Scaffold shrink film is a tough, weather-resistant polythene specifically designed for use on development and construction sites. Strong impact tolerance makes it ideal for protecting building and construction work from the high wind loading, while its malleable strength means it can be safely and securely installed, even at challenging heights and conditions.
By fully encapsulating construction projects or area you are able to work through adverse weather conditions, shorten timescales and improving the appearance of the construction site.
How Verisafe scaffold shrink wrap works
When applied correctly the film forms a drum-tight skin area around the project.
Bi-Directional Shrinkage
Verisafe scaffold shrink wrap does this better than any other film and it has bi-directional shrink properties, meaning it will shrink the same ratio vertically as it will horizontally. Not only does this make the film application a much easier process with much better results, it also allows you to shrink the film a second time if the project has multiple phases and requires extended encapsulated areas attached the existing film.
This poperty is determined during production by the choice of the extruder and the blow ratio. VeriSafe ® films have similar contraction strength, both vertically and horizontally. This is a unique property only found in Verisafe scaffold shrink film and gives our film unique features: – by heating – resulting in a perfect clamping of the film and also a permanent shrinkage force for a long time and therefore a super resistance to gusts of wind (guarantee up to 10 Beaufort).
Welding Properties
These are determined by the raw materials used, as well as the capacity of the extruder. The welding is very important and must be permanent for long time. Welding's which dissolve over time weaken the tension of the film and thus also the stability of the work.
Puncture Resistance
This is determined by the blow grade of the extrusion and by the chemical composition. The unique properties of bi-directionality and the chemical composition make our film uniquely strong in this area.
UV Resistance
There are different formulations in order to meet the UV-resistance needed. Depending on the chosen formulation we can guarantee 3 to 15 months to 130 Langley (South of France) or 2 to 4 years to 70 Langley (Benelux). The choice of the additive is determined in order to ensure welding strength and shrinkage properties in all climate conditions.
Flame Retardant Properties
We offer various films with EN13501-1, LPS, M1 & B1 flame retardant certification, and can advise the film required depending on the project.
Key benefits
Scaffold sheeting is used to keep your scaffold structure contained & well protected. Why you should use scaffold shrink wrap in your construction project:
Low maintenance. Verisafe is highly wind resistant due to its drum-tight properties. This means that the chances of tears and detached sheeting is reduced significantly
Improve appearance. The scaffold sheeting creates a professional and clean appearance across your construction site. The material can cover all aspects of your scaffolding and as it is tensile you can be sure your site is totally protected
Malleable strength. Our scaffold shrink film is incredibly versatile and can cover all shapes and sizes. This means that all your construction site is protected against any unpredictable weather conditions
Due to technological progress and the increasing demands in terms of safety, fire protection and ecology, Verisafe Shrink Film is by far the best product to choose for construction sites, renovated buildings and other construction projects.
Our stock film is supplied 7 x 15mt, multi-folded to 1750mm x 37Kg max for easier distribution and application
Flame retardant certified LPS 1207 & 1215 BRE Audited
7m wide x 15m long x 320mu LPS White Opaque – 105mt² / 36.6Kg per roll, for more information about these product specifications, click here.
7m wide x 15m long x 280mu LPS White Opaque – 105mt² / 32.4Kg per roll, for more information about these product specification, click here.
Flame retardant Class EN 13501-1 b,s1, do
7m wide x 15m long x 300mµ White Opaque – 105mt² / 32.4.4Kg per roll, for more information about the product specifications, click here.
Prices
To discuss scaffold sheeting for your next project call our sales team on 01993 894 816. They will be able to give you the best price over the phone, and will answer any questions you may have.
Call us now to find out how Polythene UK can help you on 01993 894 816
All products related to shrink wrap encapsulation…
Our installation and training services for scaffold shrink wrap…