What Is Scaffold Sheeting?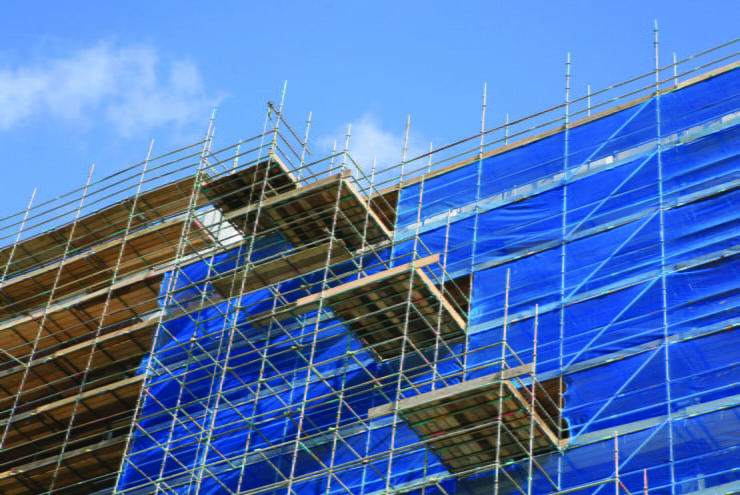 Many suppliers fail to distinguish between scaffold sheeting and shrink wrap. Worse, some suppliers push generic shrink wrap as scaffold sheeting. Standard shrink wrap is an inadequate substitute for purpose-designed scaffold sheeting, which has been manufactured specifically to protect scaffolding and buildings from adverse weather conditions and other causes of damage typical of construction sites.
So what is scaffold sheeting, and why is it superior to standard shrink wrap?
Scaffold sheets and shrink wrap: increased durability
Construction sites present a number of problems that standard shrink wrap is not designed to withstand. The first of these is height. Scaffolding can reach great heights as it scales the sides of buildings. This is particularly true of high-rise construction sites and other tall buildings. As height increases, so does exposure to wind and other adverse weather conditions. Scaffold sheeting is engineered to withstand these tougher weather conditions. Increased polythene thickness increases the strength and durability of the material.
Another problem that scaffolding represents is size; the scale of large scaffolding installations requires a large volume of scaffolding sheets to cover it. To combat this, the individual shrink wrap sheets can be heated at the joins during application, welding them together to create a single, larger scaffolding sheet, and a more secure, sealed fit.
Scaffold sheets and shrink wrap: malleable material
Increased wind strength places heightened pressure on scaffold sheeting. In order to handle this, scaffold sheeting is designed with increased malleability. This property enables it to respond to strong winds, as opposed to snapping, tearing, or breaking. Coupled with increased thickness, these qualities set scaffold sheets apart from standard shrink wrap.
Scaffold sheets and shrink wrap: certified
Certification is important for guaranteeing your scaffold sheeting's unique properties. Certified scaffold sheets can be relied on to provide specialised protection for construction sites, building repairs, and other instances of scaffold protection. Certification also distinguishes genuine scaffold sheets apart from standard shrink wrap being missold as scaffold sheets.
Verisafe Shrink Film
Polythene UK's Verisafe Shrink Film is manufactured specifically for scaffold, encapsulation, and containment. Fully certified (LPS 1207 and 1215 BRE audited), Verisafe Shrink Film guarantees the industry-leading protection your scaffolding needs against adverse weather and inhospitable construction site conditions. Its heat-sealed joins and malleable properties also make it ideally suited for wrapping unconventional shapes, which standard shrink wrap would struggle to properly cover.
Product specifications:
Verisafe Shrink Film is available in different sizes from 5m wide up to 12m wide in standard grade, or 7m x 15m in the flame retardant option.
The product is extremely durable, with a thickness of up to 320 microns. We can offer sizes from 50 to 350 Micron (Mu) from 30cm to 12m.
Shrink film rolls are white in colour.
Due to technological progress and the increasing demands in terms of safety, fire protection and ecology on construction sites, Verisafe Shrink Film is by far the best product to choose.
At Polythene UK we also offer professional installation services. Our highly qualified installation team uses a combination of knowledge, experience and state-of-the-art equipment to ensure a safe and efficient installation process, guaranteeing your construction site or scaffolding reliable protection, whatever the weather.
What is scaffold sheeting and shrink wrap? To find out more, or request a quote, call Polythene UK today on 0845 643 1601 or contact us here.