The present and the future: Compostable, carbon-neutral carrier bags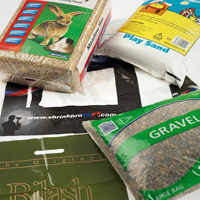 We have seen in recent years an increased awareness of the impact of plastic bags on the environment in the UK. With Wales and Northern Ireland having brought in a new law to combat plastic bag wastage, there is a clear increase in the popularity of legislation designed to limit plastic bag usage by the general public. There is increasing pressure on the Scottish and English governments to follow suit, and introduce a mandatory 5p charge for plastic bags at retail outlets, takeaway restaurants, and the like.
This has been confirmed as a credible strategy that does indeed reduce the use of plastic bags, and encourages re-use and recycling. Polythene UK have also developed a solution to the problem of plastic bags blocking up our landfill sites. This solution is called Polycomp. As our Polycomp brochure states, Britain dumps more household waste into landfill than any other European state, so we wanted to address this issue with our range of environmentally friendly products as part of our ongoing commitment to manufacturing carbon negative polythene.
Bio-Degradable Bags
Our bio-degradable bags are starch-based and 10-day compostable, and they degrade in compost, soil, or salt water. If they do happen to end up at landfill, they will return to nature instead of leaving a visible litter trail. Traditionally, the problem with bio-degradable products is that they are not quite as durable as the classic plastic-based alternatives. However, we have developed our bags with this issue in mind, and have created bags that are just as strong using our combination of materials.
We also offer Polylite bags which are more efficient and sustainable, decreasing weight of transit and therefore reducing the resulting carbon footprint substantially. We offer these to our customers as printed Polylite polythene bags, ideal for marketing purposes as they promote your company everywhere they are carried.
Improving the Environment
Polythene UK are committed to improving the environment, and believe that as plastics manufacturers, we hold responsibility in producing products that are environmentally friendly, bio-degradable, and carbon negative.
We will always need temporary, lightweight, and strong bags. Products like Polycomp are the way forward for this, and we hope that many more people adopt this approach in the future.