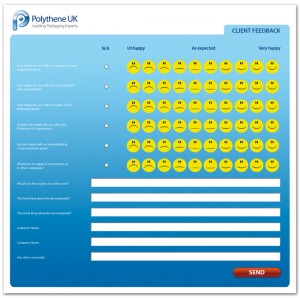 If you are one of our much appreciated existing customers, you should have received a link to our NEW ONLINE CUSTOMER FEEDBACK FORM.
It only takes 30 seconds to complete as we've kept it really simple. There are 6 basic questions about our general performance and the opportunity for you to have your say and make suggestions if you want to.
Your feedback would be really appreciated and will be taken seriously to help us continually improve our customer service overall.
Didn't get your email?
CLICK HERE TO FILL IN THE ONLINE FORM NOW
If there is anything you'd like to run through 'live' rather than online, please give us a call on: 01993 777950*
About Polythene UK
We supply Polythene to a wide range of Nationwide clients, as well as supplying the lowest cost for pallet wrappers in the UK. Click to find out more about our Pallet Covers, Machine Stretch Film, Hand Pallet Wrap and Pallet Wrappers.